ULTOMIRIS is the first and only long-acting C5 inhibitor, blocking a key protein that contributes to damage where your nerves and muscles meet
C5 is a protein within a part of your immune system called "complement," which incorrectly attacks your muscles in gMG.
Healthy Muscle Cell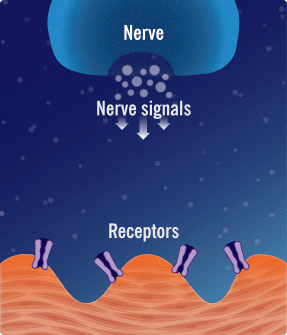 When a healthy person wants to move their body, muscles receive signals from their nerves. But in gMG, damage happens to the neuromuscular junction, which is where the nerves and muscles meet.
Damaged Muscle Cell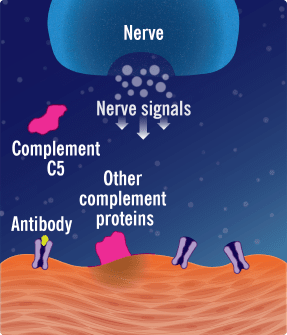 When you have gMG, anti-AChR antibodies block your receptors on your muscles, which causes a part of your immune system called "complement" to incorrectly attack your own muscle cells. C5—a key protein within the complement system—activates other complement proteins, which then directly attack your muscle cells.
This results in damage and inflammation that interrupt your nerve signals, causing gMG symptoms like the muscle weakness you may feel.
Muscle Cell in Treatment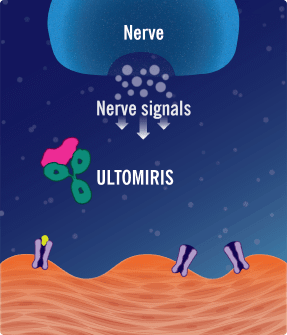 Though the exact way it works as a treatment for gMG is unknown, ULTOMIRIS (ravulizumab-cwvz) is a C5 inhibitor—it binds to and blocks C5, which is part of the complement system that contributes to damaging your muscle cells in gMG.
Receive information & updates